Antrashtriya Manavadhikar Sangthan Key Persons :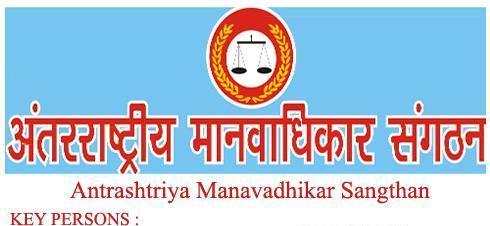 Listed below are the key persons..."The persons behind Antrashtriya Manavadhikar Sangthan Organization or the representatives of Indian social common mass"
Sri M.S. Pathak
National President & National Incharge
Mobile : 09661477764

Sri Dharamveer Sharma
Advisor

Sri Aditya Kumar Srivastava
Director Finance
Mobile : 09835143372

Sri Umesh Chandra Srivastava
National Technical Director
Mobile : 09431100351

Sri Vivek Parmar
National Technical Advisor
Mobile : 09663703201

Sri Ajit Kumar Singh
Social Welfare Director

Sri Sunit Shakay
Vice President Uttar Pradesh

Sri D.P. Singh
State Advisor Uttar Pradesh

Smt Anita Shakay
Incharge - Kanpur Mandal

Sri Ram Sevak Rajpoot
President Uttar Pradesh

Sri Surjeet Singh Tomar
Secretary Uttar Pradesh

Sri Ajay Sharma
Varanasi Coordinator
East Uttar Pradesh

Sri Narendra Kumar Singh
President Meerut Commissionary
Uttar Pradesh

Sri Santosh Kumar Mishra
Director, AMS Delhi

Sri Digvijay Singh "Pradhanjee"
Delhi Coordinator
Mobile : 09350255236

Miss Nilu
Cashier & Tresure


Sri Ritesh Kumar
Advisor
Mobile : 09304806104

Sri Gaurav Kumar Singh
President Banka Bihar



IMPORTANT INFORMATION
Please Note : Any one claiming to be president,secretary,incharge,co-ordinator or person accociated with ManavadhikarSangathan other than names mentioned here is incorrect and false.Some co-ordinators and incharge of Bihar have been dismissed with immediate effect.If anyone claims the same legal action would be taken aginst that person.

E-mail: info@manavadhikarsangathan.org

Any questions or clarifications with respect to this Policy can be sent to
Antrashtriya Manavadhikar Sangthan
at email address:
info@manavadhikarsangathan.org
or at:
manavadhikarsangathan@yahoo.in

OR

By post mail addressed to :
"Privacy Policy"
Antrashtriya Manavadhikar Sangthan
Bariatu Road,
PO RMCH,PS Sadar
Ranchi - 834009
Jharkhand

OR

BY calling our number at:
+91 96614-77764

Thanks.
AMS Webmaster

Sponsored Ads...